You asked for it, we (finally!) did it; the
Discontinued Socks & Stockings
page.
Until now, there has been a lot of confusion (and complaints on our
Artisan Socks Facebook page
) about us being out of a lot of what you want.
There are two main reasons a product would show up as "Sold Out" on our site;
1.) Because we were sold out of the item and hadn't reordered because it wasn't a very popular item, or sold out and were waiting on a new shipment of great socks or stockings
2.) Because the designer or brand has run out of or discontinued the item and we would never ever again be able to order it.
However, like absolute idiots, we did close to nothing to let you, our lovely, patient and good-smelling customers know which was which.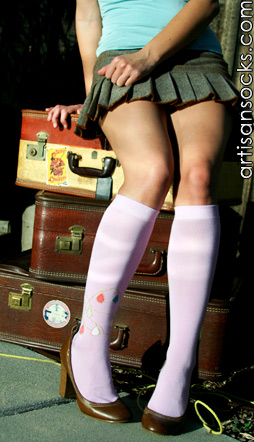 Almost all sold out. Forever.
AND THEN ONE DAY IT HIT OUR LITTLE PEA-HEADS LIKE LIGHTENING!
We made a whole category for the items that would never be made again and called it, oh so surprisingly, "Discontinued Socks".
So now, oh happy day!, when you see something that says "Sold Out", it means, actually, "Sold Out", but that we can get it in again.
If you see something marked suchly, please call us at 1.888.34.SOCKS
or log into your account
and contact us with the AS number and we'll let you know when it will be in by or when we can have it in by.
HOWEVER
If it says "Discontinued" it means that the brand WILL NO LONGER MAKE THE ITEM in that style or color. Once they're gone, they're gone. Anything on the discontinued page is here only in limited stock so if you're ordering volume, call first, we probably don't have many.
Thank you for putting up with our slowness, hope this makes shopping
Artisan Socks
a little bit easier and nicer.
XoXo,
Sock Diva Leah